It's already autumn outside... the grass is getting yellow... the leaves turn to red, brown and yellow... Some people can say, the nature is dying, I say it's falling asleep, and it makes us enjoy with its fantastic, cheerful and festive colors - Indian summer at the door!
When the sun rises, autumn colors flash out showing fall beauty, and water drops after night rain sparkle like diamonds! I like this season, and once I've already created the
Autumn Splendor Necklace
. This year the spring was pretty long and cold - but the fall is warm and beautiful, that's why I returned to the autumn theme.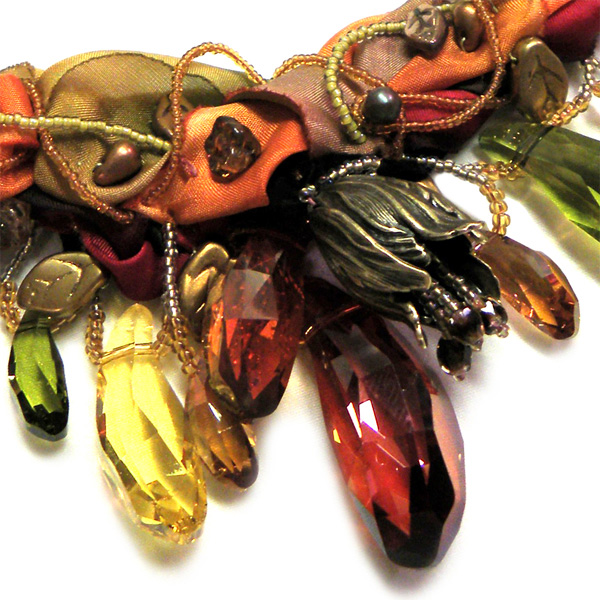 Remembering my
Tropical Blossom Necklace
, I decided to use Swarovski pendants again, and that brought me to
Artbeads.com
. My husband said, "Good choice!" I have no idea what he meant, whether Artbeads.com or
beautiful pendants
they sell. In general, it doesn't matter, I found out what I was looking for.
I received
red magma
, olivine, light topaz, and copper Swarovski crystal pendants, and bought silk ribbons of bright autumn colors at the closest craft shop. Appropriate Czech glass teardrop and leaf accent beads, and TOHO 15/0 yellow and green seed beads should have been good much to my staff.
I wrapped up memory wire blank necklace and used it as the base of my piece, and embellished it with Czech beads; then I wound it with bead strings and made fringes with crystal pendants. The last touch was the brass leaf closure. The necklace could be named Autumn Wreath, but I call it Indian Summer, because Indian summer is outside!
Disclosure. Being a reviewer of Artbeads.com products and a participant of its blogging program I received Swarovski crystal pendants free of charge. This post reflects my honest opinion; and Artbeads.com is not compensating me for my endorsement as it pertains to the products received and reviewed.