Interview with jewelry artist Patrizia Tager
Our guest today is incredibly talented bead artist from Israel Patrizia Tager (Triz), she was very kind and agreed to answer our questions. We believe that you'll be glad to know Patrizia and read her short story on her passion, the name of which is beading! Thank you, Patrizia!
1. Triz, where are you from and where do you live now?
I was born in Milan, Italy where I lived till I was twelve. My mother is French and my father is British, and when I was 12 my family moved "back" to England. After graduating from college at the age of 22, I decided to move to warmer climates, as I cannot stand cold and rainy weather, so I moved to Israel, where the sun shines eleven months of the year. I'm still in Israel today.
2. What is your education and occupation?
I graduated with a B.A. Hons in Fashion Design from the American College in London (renamed The American Intercontinental University, London). I studied photography for two years in Israel and then in my perpetual quest to find myself, I went on to study Social Policy and Criminal Justice. I currently work as a desktop publisher for a medico-legal publishing house as well as working on my own beadwork and teaching intermediate/advance bead embroidery workshops.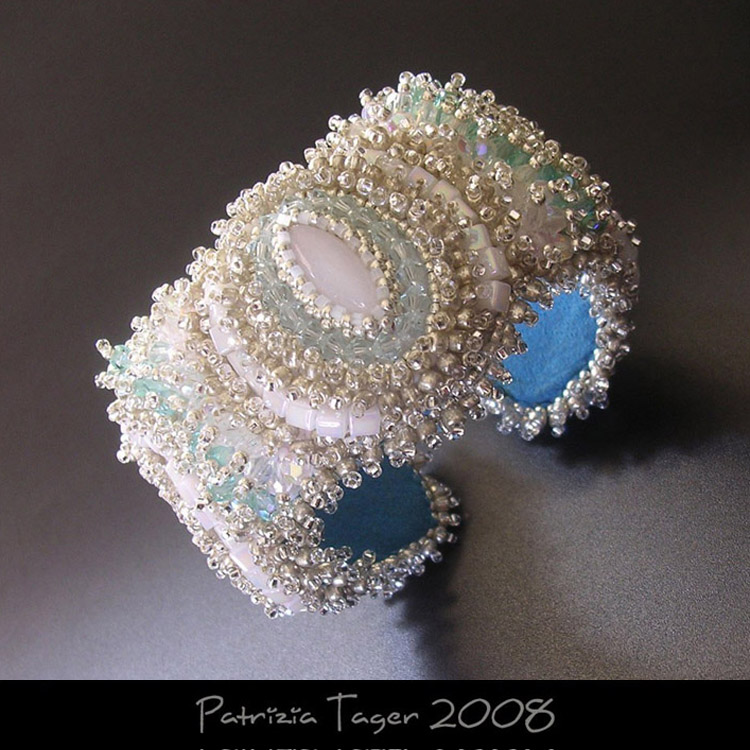 3. When did you start crafting and what was your first craft?
This is so difficult to answer! I've always, as far as I can remember, been doing one form of craft or another. This is mainly due to the wonderful nanny, Paola, that looked after my sisters and I when we were little. She was with us for many years and was incredibly talented and resourceful. We used to make hand puppets and create the most beautifully decorated puppet theatres all made out of cardboard boxes. She also taught me to knit and to crochet and, in fact, introduced me to my early experience with beadwork by showing me how to make a loom out of a shoe box and taught me to make loom-woven beaded bracelets. Coming from a completely artistically-challenged family, she was my artistic angel sent from above. She ncouraged, praised and inspired me.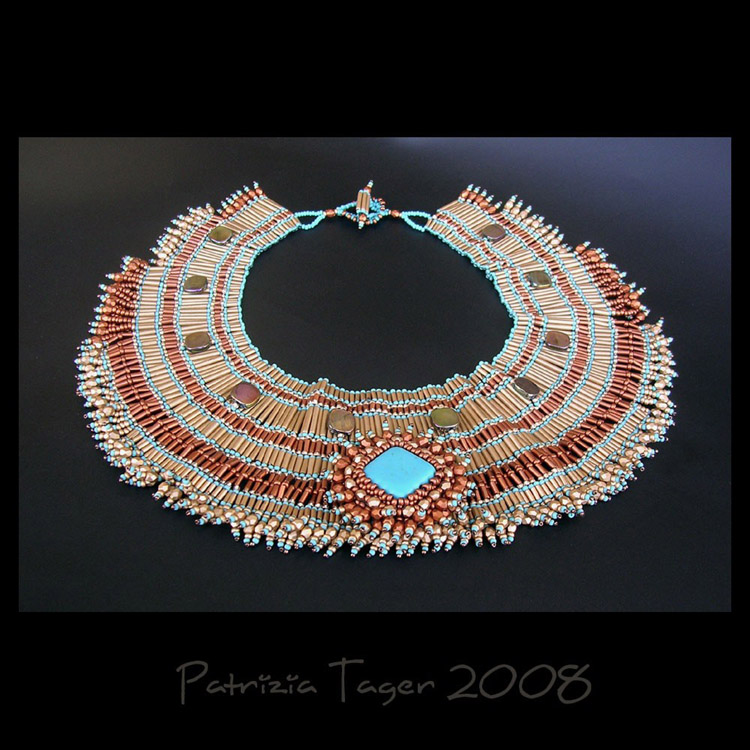 4. How did you come to beading? What inspired you?
As I mentioned above, I was introduced to beading by our nanny Paola, however those days were long forgotten once I moved to London and it wasn't until about 3.5 years ago that I was reintroduced to this wonderful world of beads. When my son turned one and started attending day-care a couple of times per week, I found myself desperate to get out of the house for a few hours and do something creative. The local shopping center had a beading shop and I went in to enquire about taking some classes. I took four basic beading classes, where I learnt to make a beaded ball and a couple of other beginner's projects. I became completely and utterly hooked with this medium. It was as though I found myself, finally! The four classes weren't enough, I desperately wanted more, so I went out and bought every magazine and book I could find on beadweaving and for a year I spent all of my free time trying out different techniques. It became my true passion verging on obsession.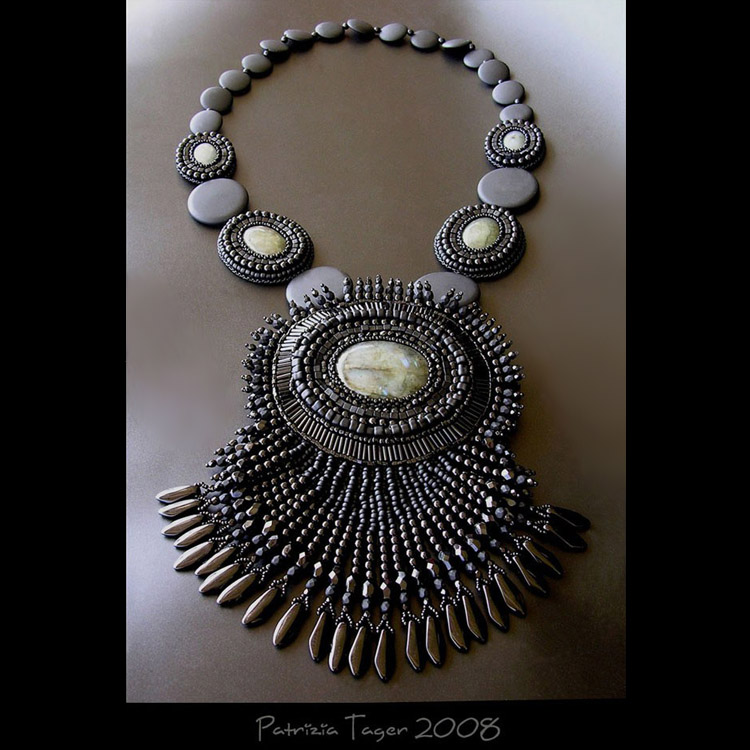 5. How did you learn making your beadart works?
During my "learning" year I researched the subject extensively, especially on the Internet and became familiar with some wonderful bead artists. I discovered a whole world that I did not know existed and became aware of the endless possibilities of creating with these tiny little beads. I applied my earlier knowledge of design to this new medium which led to the creation of my own original pieces.
6. How is main work associated with beading? Does it help you to bead?
Sadly my "real" job has no associations whatsoever with beading and in fact it is an encumbrance to my creative flow and designs, but it's a job and it pays the bills.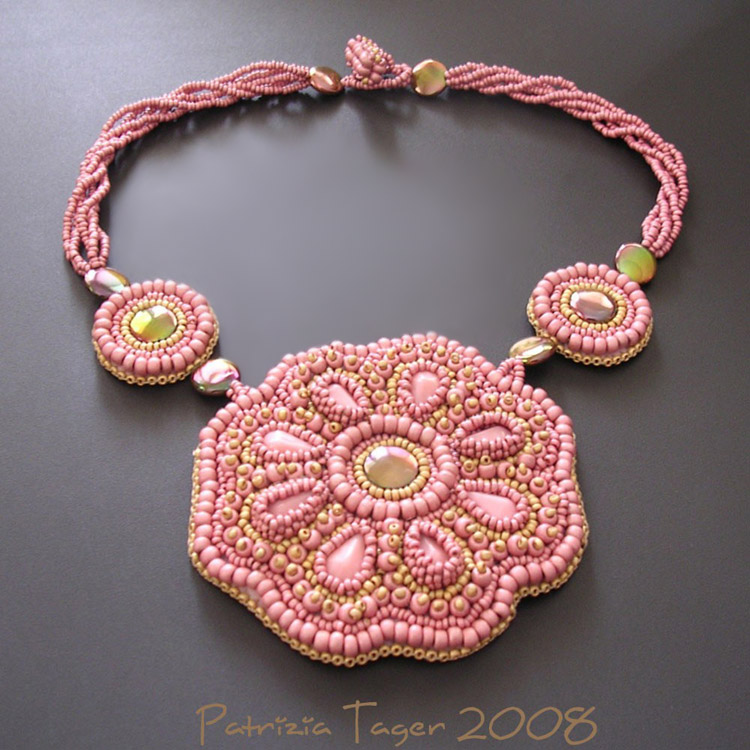 7. What are your favorite techniques and media? Why?
Frankly, I love all the techniques I have learnt so far. Some I may find easier to execute than others, but if I had to choose a favorite it has to be bead embroidery. I love the freedom it allows. Whenever I'm bead-embroidering I feel as though I'm painting with beads. I see the beads as my paint and the various sizes and finishes of the beads as my brushstrokes. I find this technique incredibly liberating.
8. Are there any bead artists you try to follow?
There are so many bead artists that I'm truly in awe of, my favorite by far is Sherry Serafini. I think her work is not just stunningly beautiful but also genius. Her attention to detail and her workmanship are superb !!! David K. Chatt's beaded sculpture and jewelry are out of this world! The Lone Beader's amazing beaded artworks always leave me inspired and amazed at her creativity, originality and execution of her gorgeous art!
9. Where do you find images for your beadwork?
Absolutely everywhere; I look at everything: nature, architecture, antiquities, fashion, fabrics, art, colors, and other bead artists. By far my greatest inspiration comes from my own memories and life experiences - e.g.: my latest finished pieces,
Frozen Waters Cuff
and Frozen Waters Earrings were inspired by my childhood memories of holidays in the Swiss mountains - the colors, the brightness, the reflections, how the incredibly clear blue skies reflected off the snow and the frozen lakes. Obviously the memories are idyllic rather than factual, as I haven't been to Switzerland in over 20 years nor have I seen snow in over 10, but from those memories I get snippets of inspirations which I then translate into my work.
10. What do you think is your greatest achievements in beading?
My greatest achievement is winning the last two EtsyBeadWeavers' challenges for my works
Let My People Go
and
Black Panther
!!! I'm so grateful that people like my work enough to vote for it! I'm also proud of how far I've come using this medium in such a short space of time!
11. What do you plan to improve in the future?
There is so much I still want to learn, for example, I have never tried the Russian stitches and I love how they look, I just haven't got round to trying them out yet! I learn something new every time I create a new piece - new challenges arise with each new design, I always strive to make my next piece better than my previous one. I see my beadwork as a learning journey, much the same as life!
Thank you, Patrizia! We wish you best of luck and a great success!
Beaded jewelry by Patrizia Tager
About artist:
Patrizia Tager, Herzlia, Israel
E-mail address:
patriziatager@hotmail.com
Blog:
triz-beadingmania.blogspot.com
Etsy:
Triz Designs