Did you buy it? Not yet? Hurry up! In issue 11: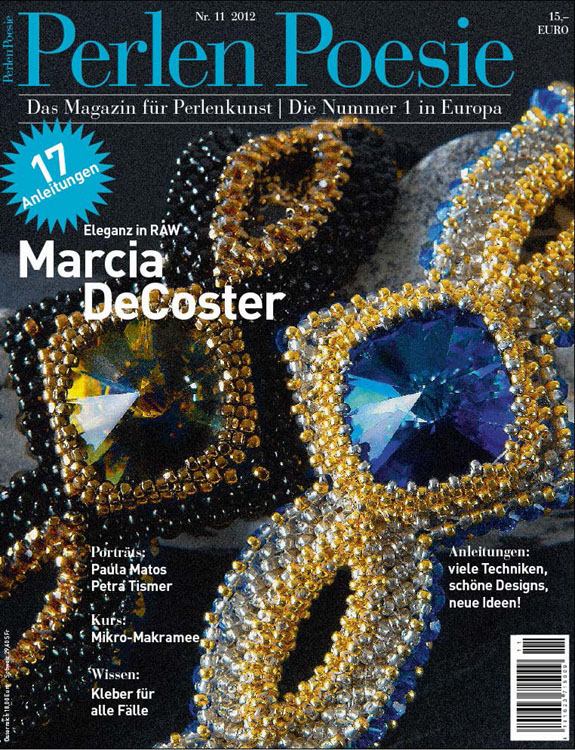 •
Lady in RAW.
Marcia DeCoster: The artist is a stylish woman, knits fine tunics and loves to bead her jewelry mostly in RAW technique. We met her in Bonn, Germany, where she held workshops for 3 days. She let us have some of her treasures, which we are able to show to our readers. You will also find an instruction for a fancy bracelet...
•
The Bead Ambassador.
Petra Tismer: She loved beads for a long time and when she accompanied her husband to Turkey for a few years she started to teach beadwork techniques to an international group of women of the diplomatic corps. Back in Germany she turned hobby into profession...
•
Surprising Designs.
Paula Matos: The lively Portuguese woman decided to give up her job in a bank and do what she loved - to design jewelry and to share this love with others. Traveling to India she convinced herself of the bead production...
•
And 17 instructions.
Instructions to rework, for example Micro-Makrame, pieces in Soutache technique, something for the fans of Bead Crochet and inspiration for working with Roses Montee, great pieces in RAW and many other techniques.
The magazine is published in Germany by Beaders Best Verlag Company, you can subscribe it. If you live in the USA, you can directly or via Internet buy single issues of the magazine at the Beads by Blanche bead shop.
Subscribe to Perlen Poesie magazine
Buy Perlen Poesie magazine in the USA