Perlen Poesie number 10 is coming out! In that issue: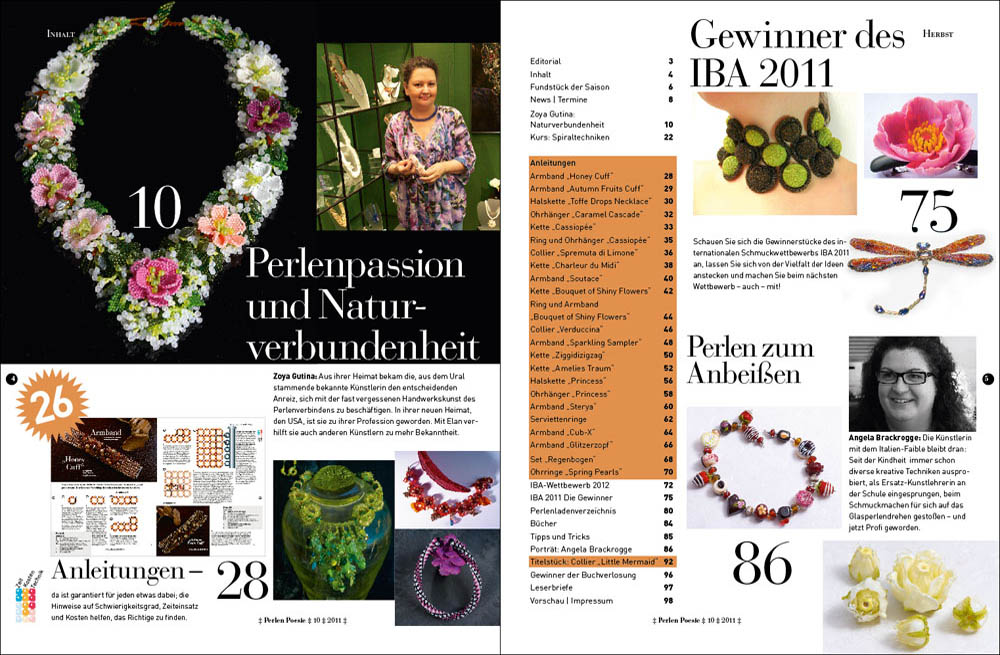 • Beadpassion with the love of nature... Zoya Gutina implements that into all of her designs. Using many different techniques she adds enchantment to her necklaces opulence of which is unparalleled;
• Workshop Spiral Techniques - everything turns... Impressive designs can be achieved with these techniques;
• Scrumptious Beads... Angela Brackrogge: Jopanda - her artist name stands for handmade glass beads with subtle gradient colors and elaborate shapes. Look and enjoy!
• Winners of IBA 2011... Look at the winning pieces of the international jewelry contest IBA 2011. Savor the diversity of ideas and - maybe - participate next time!
The magazine is published in Germany by Beaders Best Verlag Company, you can subscribe it. If you live in the USA, you can directly or via Internet buy single issues of the magazine at the Beads by Blanche bead shop.
Subscribe to Perlen Poesie magazine
Buy Perlen Poesie magazine in the USA