I'm hooked on Art Nouveau. My interest in this style began a year and a half ago, when Nancy Reinke, an artist from the Torpedo Factory Art Center (Alexandria, VA) presented me antique beads she took from her grandmother. Beads were Czech charlottes and were produced at the end of XIX century. No wonder, that I started reading about that time and learning art of this period. I expressed my love in several jewelry pieces: Lady Winter Necklace featuring painting Winter by Alfons Mucha, and Judith Necklace featuring... of course, artwork Judith by Gustav Klimt!
So, when
Artbeads.com
announced its new blogging challenge "What's Old is New Again!", I was happy because it was a great opportunity to continue my own Art Nouveau challenge. I have to confess - and I'm glad to do that - they paid a lot of attention at vintage style products, and my search wasn't to long.
Steampunk?
Not now, maybe, later on...
So, I came to just launched
Kabela Design
that carries a very beautiful line of brass antique styled products. Art Nouveau art pieces widely featured elements of live nature such as threes, flowers, birds, insects, lizards, butterflies, etc., but number one is a dragonfly! How come? Who knows! I think, some explanations can be found. Try "Art Nouveau butterfly", and Google Image search will return you hundreds of jewelry pieces with those critters!
I finished my search very quickly, I selected two Kabela Design
Antique Brass Dragonfly Pendant
"to support" the center piece, and Kabela Design
Antique Brass To Thee Pendant
as a frame for embroidery: a piece of genuine leather and TOHO charlotte seed beads 15/0, in the center I attached a charm featuring hummingbird, the same charm I used as a small pendant. Swarovski crystal pearls of bronze and blue color, and Extreme Trios (24K gold plated) thread by Softflex helped me finish my light-weight necklace.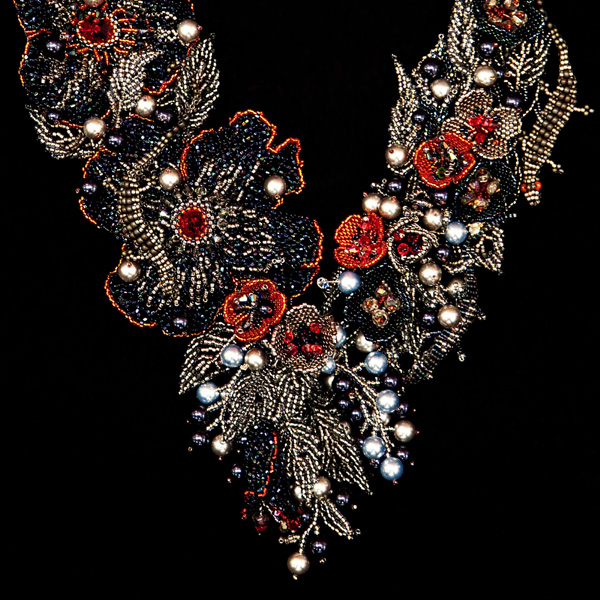 Art Nouveau must go on! And here is a piece of jewelry created just from beads I mentioned in the beginning of my post. It also features my lovely style. If you like that necklace you can cast your vote for People's Choice Award in the International Bead Award Contest:
Disclosure. Being a reviewer of Artbeads.com products and a participant of its blogging program I received Kabela Design brass components free of charge. This post reflects my honest opinion; and Artbeads.com is not compensating me for my endorsement as it pertains to the products received and reviewed.