You never know where you are with new materials!
Glass beads
are the main media to design beaded jewelry, and the technology for glass beadmaking is among the oldest human arts, dating back 3,000 years. Glass beads have been dated back to at least Roman times. Perhaps the earliest glass-like beads were Egyptian faience beads, a form of clay bead with a self-forming vitreous coating.
Fire polished beads
from the Czech Republic are a faceted glass bead. Czech fire polish beads are made in an area called Jablonec nad Nisou. Production of glass beads in the area dates back to the 14th century and this area is well known for the manufacture of high quality glass beads. Czech fire polished beads have become so popular in recent years, primarily because they are the highest quality manufactured faceted bead available. This has helped make them one of the most favored glass beads by jewelry makers and beadworkers alike.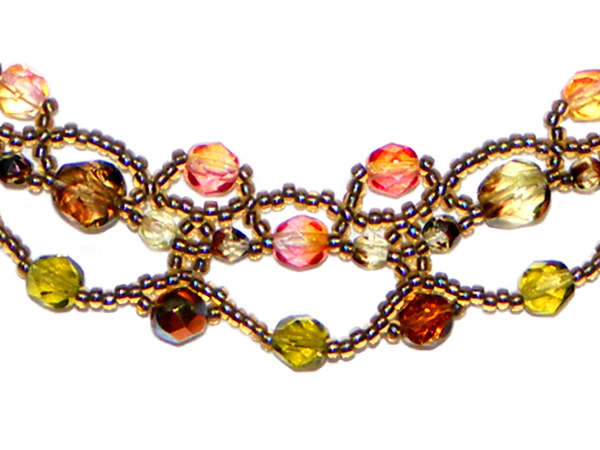 Thinking of summer themes, I decided that I need a light, bright, and not expensive necklace because this season is funny for outdoor activities, summer vacations, and nature scenes; summer is just the lovely season itself; and glass faceted beads seemed to be a good choice. Looking for beads, I stopped by
Artbeads.com
, that has... mmmmmm... unbelievably rich inventory! Using right angle weave technique, stringing and looping, Czech glass beads and Toho seed beads 11/0, I designed the necklace I like. It took me just a few hours! The only problem is how to photograph the necklace because of sparkling beads. It's not named yet, could you help me please with that?
Disclosure. Being a reviewer of Artbeads.com products and a participant of its blogging program I received Czech firepolished beads free of charge. This post reflects my honest opinion; and Artbeads.com is not compensating me for my endorsement as it pertains to the products received and reviewed.