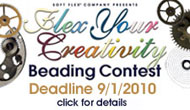 This year's Flex Your Creativity Beading Contest supported by Soft Flex Company is on Steampunk designs. Are you not sure what Steampunk means? Check out
the short article
, on that type of jewelry! Design entries must include exposed beading wire. All beading wire must be one of Soft Flex Company brands - Soft Flex, Soft Touch, Extreme, Metallics or Econoflex. You may use any color or diameter in your design. There is no limit to the number of designs that you may enter. The company encourages you to feature beads and findings from your local bead shop as well as create your beads and findings from found materials - clock parts, gears, washers, screws, bolts, bottle caps etc. Lampworkers, recycled glass from bottles, made into parts and components are encouraged, too. Prizes are great! All entries must be received by September 1, 2010.
Flex your creativity!

Christina (aka Good Quill Hunting) is sponsoring the Second Annual Haute Couture Beading Contest. Using one of the 36 presented Haute Couture Fashion photos as inspiration in color, technique, textures, shapes, and style, you are supposed to create a piece of jewelry. Go bold, go bright, use your imagination to conjure up your wildest dreams, as fashion designers have! You may use multi-media in this, but the main part of your work has to be done with seed beads. Prizes are also great! Deadline for contest is November 1, 2010. Winners will be chosen on November 26, 2010. Prizes will be shipped out within 72 hours of contest results.
Haute Couture Beading Contest